Sweet and Salty Pretzel Ash Tray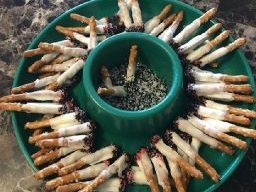 I'm always struggling to come up with a simple, classy and unique hors d'oeuvres to serve my dinner party guests. Recently I found this retro-recipe that harkens to a bygone era. It's easy to make and really leaves an impression on your guests. Thought I'd share.
Sweet and Salty Pretzel Ash Tray
1 bag of pretzel sticks
1 jar of vanilla frosting
1 oz of whole pepper corn
2 drops of red food coloring
1 chips and dips serving bowl
Pre-preparation:
Open jar of vanilla frosting.
Take two tablespoons of your vanilla frosting and mix in two drops of red food coloring on to a plate.
Crush your pepper corns corsely with a rolling pin and put on a plate.
Instructions:
Take your pretzel stick and dip them in the vanilla frosting jar. Ensure that you get full coverage except for one inch of the pretzel that should remain uncovered.
Dip the tip of the frosting covered pretzel into the frosting with the red food coloring.
Dip the tip of the pretzel into the crushed pepper corn
Place the prepared pretzel onto the outside ring on your chips and dip server bowl.
After you've prepared all of your pretzels, take your remaining crushed pepper corns and place them in the center ring of your server bowl.
That's it. Serve and enjoy the reaction from your guests!
Famous Chicken sushi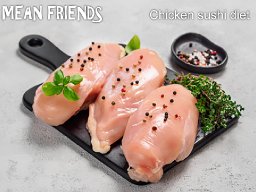 The original MF Chicken Sushi Diet has been upgraded to even better recipes!
Delicious Hor D'oeuvres!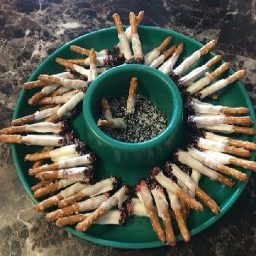 Nasty ash tray or tasty treat?  You decide, MFer!